A large part of the success story at Wish, the haute dining haven designed by Todd Oldham at The Hotel of South Beach, has been its ongoing evolution in the kitchen. 
Celebrating ten years of excellence in December of 2008, the restaurant has called some of the country's top toques "chef," garnered accolades in Food & Wine and Esquire and consistent rave reviews for its cuisine and service.  Currently at the helm is Chef Marco Ferraro, the talent behind the restaurant's beautifully-executed, vibrant, Mediterranean-inspired cuisine.  And, to celebrate the restaurant's decade of excellence, Oldham recently returned again to create a stunning new look for Wish.
"Wish is unlike any other restaurant in South Florida, and after ten years in operation we continue our commitment to excellence in food and beverage, design, service, and value, and our commitment to our customer remains paramount," says owner Jessica Goldman-Srebnick, who collaborated with Oldham on Wish's new look and headed the national chef search that found Ferraro in July 2008.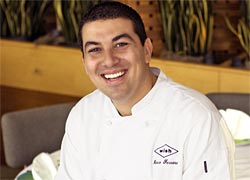 Born in Calabria, Italy, Ferraro describes his food as "fresh, seasonal, light and vibrant," a succinct and apt description but one that belies the depth of soul found in his cooking, which is rooted in contemporary American cuisine with eclectic global touches.  Trained both overseas and in the kitchens of greats, such as icon Jean-Georges Vongerichten, Ferraro's food is ingredient oriented and technically complex without being overly conceptual.  "You don't need an abundance of ingredients to make a dish work," says Ferraro.  "Simplicity has always worked best for me.  With great technique, that casts a spotlight on the finest ingredients, you can't go wrong."
Alluring appetizers ($10-$21) include Ferraro's take on a classic – gazpacho.  Made with the freshest heirloom tomatoes, this chunky, delicious variation – poured tableside – includes a salad of diced tomato, watermelon, cucumber and house-made croutons.  Like many of Ferraro's creations, texturally, the dish's components play off one another with layered flavors unfolding with each taste.  Equally amazing is the poached seafood.  Calamari, clams, mussels and shrimp are slow poached to ultimate tenderness in a mason jar, which remains sealed until serving; then the aromatic crustaceans are poured onto a sidecar of white corn polenta.  The whimsical new foie gras is perfectly seared and served with almond crumbs – lending nuttiness and a textural note – and paired with blueberry compote, wasabi and white chocolate.  Maine lobster ravioli is re-imagined as a trio of luscious "packages" more akin to super-sized wontons than traditional ravioli.  Dressed with green peas, pickled radish and cardamon-yuzu foam, the dish is destined to be a hit.  Grilled and sliced skirt steak is served with a charred bean salad, tomato, avocado and a bright chili dressing.
Entrees ($26-$44) are equally provocative.  A Kurobuta pork chop is oven-roasted and served with a parsley puree and luscious stuffed eggplant.  Fish dishes range from a new pan seared wild salmon with herbed bulgur wheat salad, red onion, celery, yellow bell pepper and garlic chips to oven roasted swordfish with baby zucchini, fennel, patty pan squash, and tomato compote.  Crispy skinned organic chicken is accompanied by a kumquat compote, jicama, cucumber, Marcona almonds and Kaffir lime-lemongrass syrup.  Meat options include grilled beef tenderloin with braised short rib, Fresno chili and carrot confit and pan seared prime New York strip with red bliss potatoes, cippolini onion, blue cheese and radicchio.
Remaining on the menu will be Wish's vegetarian selection, "crafted as you Wish."  This favorite allows diners to choose their own ingredients or leave it as chef's choice.
Desserts ($9-$14), also created by Ferraro, reflect his deft hand with spicing.  The Dulce de leche crepe is served with pineapple-Kaffir lime leaf, cascabel caramel syrup, pink peppercorns and mint.  Vanilla frosted cheesecake hits the spot as does an intensely flavored warm carrot cake with whipped cream, candied ginger, and toasted pecan tuille.
Since opening in December 1998, Wish, the 160-seat, Mobil 4 star restaurant at The Hotel on Miami Beach, has maintained a well-earned reputation as a South Florida dining destination by virtue of its beautiful garden setting, unsurpassed service, and spectacular food.  In addition to Wish, The Hotel is well-known for its gorgeous rooftop Spire Bar & Lounge.  Offering guests sweeping views of the ocean and the Miami Beach skyline, Spire is the perfect perch from which to sip, socialize, and sample tapas, also overseen by Chef Ferraro.
Born in Italy and trained in France, Ferraro (29) is a graduate of the French Culinary Institute and Italcook.  Working in France, he mastered classic French cooking at Le Mantel in Cannes and Le Muscandin, the acclaimed Michelin 2-star restaurant in Mougins.  In 2002, Ferraro came to the United States to work and train with culinary icon Jean-Georges Vongerichten at the highly acclaimed Jean-Georges in New York City where he remained until 2004.  Relocating to California, he took the position of chef de cuisine at the Mobil 4 star restaurant, Jack's La Jolla, a position he held from 2005-2008.
Wish is located at The Hotel, 801 Collins Avenue, Miami Beach, Florida.
Breakfast and lunch served daily, 7:00 a.m. to 11:00 a.m. and 11:30 a.m. – 3:00 p.m. respectively.   Dinner is served Tuesday – Sunday, 6:00 p.m. – 11:00 p.m.; Friday and Saturday, 6:00 p.m. – midnight. Wish is closed for dinner on Mondays.
Reservations are suggested and can be made by calling (305) 531-2222 or (305) 674-9474.
Related Articles