Au Pied de Cochon, the new brasserie that recently opened in Miami Beach, is unveiling a slate of happy hours and bar & brunch menus.
A good way to transition from day to night can be found at Au Pied de Cochon's beautiful bar area.  Settle into one of the red bar stools and enjoy the Parisian ambiance, along with relaxed prices at the daily Blue Hour, which runs Monday through Sunday from 4:00 p.m. to 7:00 p.m.
An on-point bar menu ($2.25 to $9.50) offers specially priced items from the raw bar including oysters, jumbo shrimp, mussels mariniere, foie gras with toast, rosette de Lyon (French saucisson) and Camembert cheese, among other light bites. Bar prices are scaled back with $5.00 cocktails featuring super premium spirits including Belvedere vodka, Plymouth gin, and Johnny Walker Black. House white, red, rosé or sparkling wines are $6.00 per glass; while Pabst Blue Ribbon (PBR) beer is $4.00.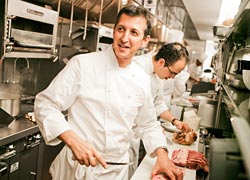 Respecting its Parisian roots, Au Pied de Cochon honors the service industry, and celebrates the spirit of fraternite common to the hospitality industry with a late night happy hour entitled the Green Hour, from midnight to 2:00 a.m. on Thursdays, Fridays, and Saturdays.  The cocktails are $3.00 as are PBR and Kronenbourg beers, while wines are $5.00.
Saturday and Sunday bring diners one of Miami Beach's few all day/all weekend brunches from 10:00 a.m. to 5:00 p.m.  Selections include everything from French toast to eggs Florentines to the restaurant's irresistible assorted bread basket with mouthwatering croissants and brioche. The Pink Hour, which runs the length of brunch service, presents liquid accompaniment with $5.00 bloody marys, mimosas, bellinis and cocktails.
Wine tasting classes, specially priced seasonal menus and other promotions are all on tap in the coming months at the lively bistro.
Au Pied de Cochon is located at 81 Washington Avenue, Miami Beach.
The restaurant is open for lunch Monday through Friday from 11:30 a.m. to 5:00 p.m; brunch on Saturdays and Sundays starts at 10:00 a.m.  Dinner is served Sunday through Wednesday, from 5:00 p.m. to midnight and until 2:00 a.m. Thursday through Saturday.
Valet parking is available for $7 at lunch, $10 dinner, and ample meter parking is available. Reservations at (305) 674-1844, for more information, please visit www.aupiedmiami.com.