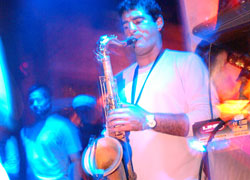 The Bass Museum of Art in Miami Beach continues its successful Jazz Series this Summer starting Friday, August 27th and continues through September 24, from 7-9pm.  This six-week series runs every other Friday evening and will feature some of the best contemporary Jazz artists in Miami.
The ever-popular happy hour/jazz night kicks off the series with the Jim Gasior Trio on August 27 from 7-9pm.
Mr. Gasior is a pianist, composer, arranger, and jazz educator based in South Florida.  He performs regularly with saxophonist Ed Calle, Wendy Pedersen, Fernando Ulibarri, and the Andrew Atkinson Quartet. His performance and recording credits include international pop artists and groups such as Kelly Clarkson, Jose Feliciano, Little Richard, Smokey Robinson, as well as jazz artists Benny Golson, Slide Hampton, John Fedchock, Duffy Jackson, Jason Marsalis, Donald Harrison and Arturo Sandoval.
Over the past ten years Gasior has directed the Jazz Ensemble at the New World School of the Arts. Throughout his tenure the ensemble and students at New World have achieved significant national recognition. He is currently serving as the Interim Dean of Music at New World.
Mr. Gasior will be performing with his trio (Jamey Ousley on bass and John Yarling on drums), and special guests Matt Vashlishan (saxophone) and Jason Carder (trumpet). The program will feature a mixture of original compositions and arrangements of jazz standards.
On September 10 the series continues with the Mike Gerber Trio.  Mr. Gerber is a jazz pianist and composer of exceptional ability. Blind and nearly deaf since birth, he made his concert debut with the St. Louis Symphony Orchestra at age 15. He has recorded and performed with some of the biggest names in modern jazz, including Jaco Pastorious, David Liebman, Dizzy Gillespie, Art Blakey, and Pat Metheny.
Gerber's mastery of the piano is known in the jazz world by fans and musicians alike. "His technique is on the level of Oscar Peterson or Art Tatum", says trumpet virtuoso Arturo Sandoval, "He has so many ideas, and endless imagination… the music he hears in his head is not the same the rest of us hear in our heads."
Mr. Gerber will be joined by Jamie Ousley on bass and Rodolfo Zuniga on drums.
The series will conclude on September 24 with John Yarling and Cut In/Cut Out.  One of the most versatile drummers on the scene today, John Yarling originally hails from Detroit, Michigan. His music career began when he was given the opportunity, at 18 yeas of age, to perform with the legendary Ira Sullivan.
Yarling left Sullivan's band after being persuaded by the great trombonist Curtis Fuller to take his talent to the Big Apple. During his New York days, he recorded with Fuller and Pepper Adams, and performed with the Jaki Byard Trio & Big Band, among others.
Mr. Yarling's concert will focus con compositions by two of the most prominent composers on the new music scene: Mark Helias and Lerroy Jenkins. He will be accompanied by Chuck Bergeron on bass, Nicole Yarling on violin, and Alex Weitz on tenor saxophone and Fernando Ulibarri on guitar.
HOT NIGHTS COOL JAZZ is free to members and $10 for non-members.  Jazz Happy Hour -   (complimentary) beverages are courtesy of Oveja Negra, Grolsch, and Café Bustelo.
Seating is limited.
During the course of the Jazz series, the museum's lower galleries will remain open until 7:00pm on those designated Fridays.  On view is our newly installed EGYPTIAN GALLERY and Selections from the Collection.  Free to members and $10 for non-members; includes jazz.
About the Bass Museum of Art
Located in the heart of South Beach, the Bass Museum of Art offers an overview of Renaissance and Baroque paintings, sculpture and textiles, as well as on-going exhibitions of contemporary art.  Additionally, the museum opened its Egyptian Gallery in April 2010.  Educational programs, lectures, concerts & live performances along with free family days complement the works on view.  Museum hours are Wed- Sun., Noon – 5pm.  Admission is $8 general admission; $6 seniors/students with ID, free to members and children under 6 years old.
Parking
Metered parking lot on site.  Additional metered parking is available on perimeter streets.
The Bass Museum of Art is generously funded by the City of Miami Beach, Cultural Affairs Program, Cultural Arts Council; with the support of the Miami-Dade County Department of Cultural Affairs and the Cultural Affairs Council, the Miami-Dade County Mayor and Board of County Commissioners and the Friends of the Bass Museum, Inc.
This Jazz program is made possible with the support of the Miami-Dade County Tourist Development Council, the Miami-Dade County Department of Cultural Affairs and Cultural Affairs Council, the Miami-Dade County Mayor and Board of County Commissioners.
Bass Museum of Art
2121 Park Avenue
Miami Beach, FL 33139